Discussion Starter
·
#21
·
Obviously this thread shows just how PERSONAL a paint brush is! I know for 40 years I've been on the lookout for the perfect brush for me (interior use) and, quite by accident, I discovered the Wooster Pro's at HD. Not a lot of painters use them, not a lot of positive feedback either, but, for me, they are perfect. Not too firm, not too soft. I love the amount of paint it holds and my cut-ins go fast!!! I mean, I hate those brushes that are soft and floppy and you spend twice as much time cutting in as you do rolling the walls.

Im not saying a Wooster Pro is right for everyone, but, if you catch them on sale at HD as you're strolling through, give them a look-see. At $12 a pop, you can buy 2 or 3 in comparison to the elite brushes like Corona.
Are these the ones you are talking about?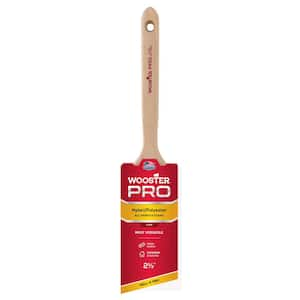 Make cut-in work and precision painting easier with this Wooster Pro Nylon or Polyester Angle Sash Brush. Offers finer finish.
That's the one I was going to try until I realized the store right across the street from my Home Depot carries Coronas. Looks like the 2.5" Cortez is $19.99 so not bad. Hard to find much info on Corona models though as far as stiffness goes.